JEC 2014: all you need to know
Since JWOC 2014 is over, the next goal for the national juniorteams will be JEC 2014 in the north of Belgium. The Junior European Cup will take place the 3rd to 5th of October in Lommel. The event will include a sprint, long and relay competition.
Formerly the Six Nations competition, JEC is essentially a team competition consisting of a long and relay (since 2002 the sprint distance was added), with each nation's top runners scoring points towards the Nations Cup. The original six nations (Great Britain, Suisse, France, Belgium, Austria and Germany) always attend, and the organisers can invite any other European nations. This year there are 14 nations competing with several strong teams as Sweden, Switzerland, Norway and Denmark. Since the competition has an M/W18 class (besides M/W20), unlike JWOC, it is often a starting point for many international careers.
JEC2014 will take place in Lommel, situated in the Kempen region. This region is one of the most interesting orienteering terrains in Flanders and will give the coursesetters the possibility to offer some challenging competitions. The courses will be set up by a group of Belgian elite runners. It's guaranteed that the athletes who want to fight for the victory need to be physically strong, but also need to use their technical capacities to have a stable performance.
The accommodation and the event centre are all located in the "Sunparks Kempense Meren", near the city of Mol and within short driving distance from the competition areas in the vicinity of Lommel. All athletes will have free access to the subtropical swimming pool to relax after their competitions.
Sprint distance:
The sprint distance will take place in Lommel city centre. The map has been used once for the Belgian sprint champs in 2008 (report BK sprint 2008). The coursesetter for JEC will be Belgian sprint specialist Yannick Michiels. This year he became 7th at WOC sprint in Venice and explains why the JEC sprint competition will be interesting: The participants can expect a fast mix between city and parc areas, some challenging and technical controls and several interesting routechoices because of extra fences.
Next season we'll see Fabien Pasquasy competing in the black-yellow colours from Lynx, but first he gave his opinion about the JEC2014 maps (read his words below).
Long distance:
The long distance race will take place at 'De Weyervlakte'. This map is known for its sand dunes and open pine forests. The coursesetters Benjamin Anciaux and Desmond Franssen focused on a challenging coursesetting which will be fun and demanding from the beginning untill the very end.
In 1997 the JWOC short distance race took place on the map 'De Weyervlakte' and Jorgen Rostrup became the junior world champion. He completed the 5.0km course with 18 controls in 23.31 (results). We asked the 4 times gold WOC champion about his experiences at JWOC 1997: I remember JWOC in 97 very well! After a disappointing result in JWOC 96 (Romania) and difficulties with the national team me, Hans Gunnar Omdal and Jostein Moe decided to do our own preparations for JWOC in Belgium. Among other things this meant participating in Sylvester 5-daagse, which was my first experience with the flat and sandy Belgian landscape. After this I did a lot of special trainigs in flat areas, focusing on using the compass in a much better way than before. These preparations were important in his road towards his first JWOC gold. Later we'll publish the whole interview and his view on the race itself on this website. But we still want to publish his thoughts about the map: De Weyervlakte was by far the best terrain I've experienced in Belgium. The participants in JEC can really look forward to the competitions!
Jorgen Rostrup won JWOC middle in 1997 and 1998. As elite athlete he won 4 gold medals at WOC.
In women's class
Hanna Heiskanen
won the race in 24.17 (4.2km and 14 controls) ahead of Katerina Miksova, Heli Jukola, Simone Luder, Eva Jurenikova and several other topathletes. We also asked Hanna Heiskanen about her experiences at JWOC 1997 and below you can read a fragment of her reaction:
"Orienteeringskill has always been more like my thing. I mean that my succes during my junior period was based more on technical skills than on physical condition (allthough I also had to be fit ofcourse). So, I remember that I didn´t expect great results in Belgium, because I thought the terrain would require strenght to run more than anything. But as the wellknown truth is, it was concentration on orienteering which mattered. "Fast terrain" and good visibility made it especially important to orienteer without any mistakes. During those JWOC races in Belgium I did really enjoy orienteering."
Hanna Heiskanen celebrating the victory at tiomila 1999 with her Pargas IF teammates
Also
Fabien Pasquasy
(one of the best Belgian orienteers ever) has an interesting opinion about 'De Weyervlakte':
I ran for the first time there in JWOC 1997 and it was a great challenge to combine speed and detailed terrain/map. It's probably one of the best sand dunes terrain in Belgium and runners will meet great challenges to keep direction, high speed and in the same time avoid mistakes. I missed in the last part of the race... and missed a top 12... in final A. Last time I ran in that area, I did 4'29"/km by selecting right features far ahead of me. This could be an advice for the JEC participants
(
race report
from the victory from Pasquasy in 2007).
Relay:
The last stage of JEC2014 will be the relay on the map 'Sahara'. This map has been used for a Belgian middle championships in 2010, as the last stage of the Sylvester 5-days in 2009 and it was the model event map during JWOC 1997. But the map and terrain are also perfect suitable for a thrilling relay competition. Coursesetters Jeroen Hoekx and Thomas van der Kleij will make the courses technically challenging. Also they will focus on a fair and equal forkingsystem during the relay. Hopefully we'll see a close and exciting fight for the victory untill the very end in both men and women relay.
Map sample of 'Sahara' (JEC 2014 relay map)

Fabien Pasquasy
competed several times on this map and gives the juniors some interesting advice :
Also being one of the best sand dunes terrain in Belgium. I had to face this typical terrain for the first time at age of 14 and it was also the Model Event for JWOC 1997. Advices are similar to Weyervlakte: select right and big features in the detailed areas to keep high speed. In case of success 4'30"/km could be reachable but still orienteering has to guide you through the terrain. Everyone will also suffer physically in some small sand areas having the feeling to be slow... but just keep focus.
Spectatorraces:
For spectators the organisation will provide an exciting show by offering live results, a speaker, spectatorcontrols, a nice arena,... There will be a nice atmosphere for cheering the best European juniors. Also the participants of the spectatorraces get the possibility to enjoy competing on the same terrain as the JEC races. Spectators will even get the opportunity to run the same courses of the JEC sprint race and will be able to compare their times with the best juniors.
The next entry date is the 1st of September, so you still have 2 weeks of time to register at the cheapest conditions.
Registration spectatorraces
(for non-Belgian clubmembers)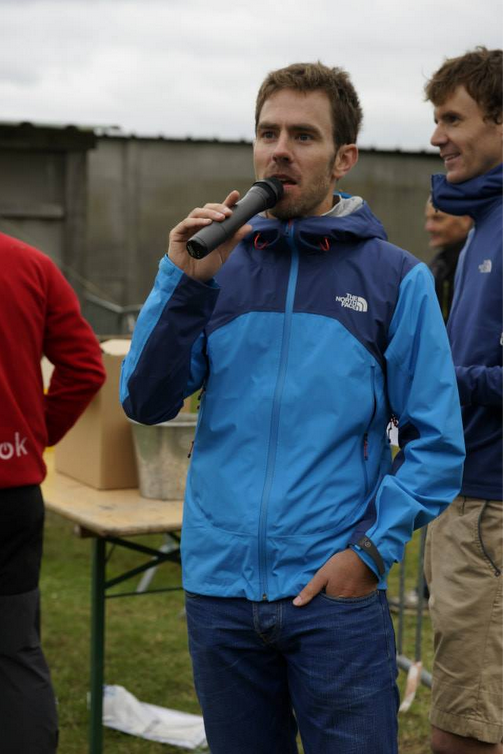 Jeroen van der Kleij as speaker during the Flanders 3-days. He's prepared and ready to entertain the spectators during JEC2014
JEC 2014 party:
On saturday evening the athletes and coaches will have the opportunity to enjoy the Jec party. The organisor of this party is the famous o-memes founder and disco expert,
Toon Melis
. To DLP website he explained why everybody should join this party: "
orienteers are besides opponents (during the races) also good friends. During the competitions everyone is focusing on his/her own race and there isn't time for networking. So the party is an excellent opportunity to meet and get to know athletes from other countries. Ofcourse everyone uses his/her own tactics for this ;-). And another plus is the fact that in Belgium we believe that dancing is the perfect cool down after a tough race. Good results the next day are guaranteed."
JEC 2014 party page
Registrations:
At the moment more than 200 athletes have registered for JEC 2014. The list of the registrated countries: Belgium, Denmark, Finland, France, Great Britain, Ireland, Italy, Latvia, Norway, Austria, Poland, Russia, Sweden and Switzerland. Remarkable is that 1 athlete will represent Finland. We can't remember that this nation ever participated at JEC before.
If any other countries are still interested in participating, they should contact the organisation as soon as possible. Nobody wants to miss this quality event in October 2014.
JEC 2014 website
JEC 2014 facebook page
JEC 2014 twitter