Sylvester stage 2 WRE: Adamski and Chataing
The French couple Philippe Adamski and Amélie Chataing particpates only at stage 2, the world ranking event in Vierveld. Their presence was remarkable, because they both took the victory in elite class.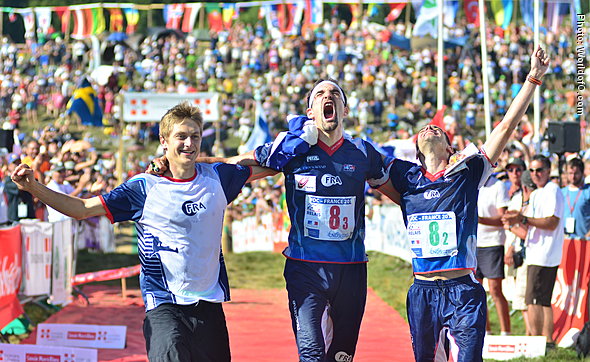 Philippe Adamski was part of the winning team at relay woc2011 (read about this race again on worldofo)
Today the participants of Sylvester 5-days could enjoy a nice competition. Omega offered a tricky map for Sylvester 2013 and all particpants enjoyed the terrain. The map was up to date, the coursesetting was interesting and the Gps tracking was a nice innovation. The competition in Vierveld included some fast legs, routechoices and technical controls on the hillsides. In the past the map was always printed in 1/7500, so today it was more challenging to read all the details in 1/10000 scale.
Also
Adamski
confirmed that he liked the terrain today. He was satisfied about his race, despite 2 mistakes on the same hillside (controls 5 and 6). At control 14 he caught up with
Christoph Brandt
and they stayed together untill the finishline. Brandt finally took the bronze medal in todays race. Yesterdays winner
Tomas Hendrickx
performed again strong today and took the 2nd spot. In the end he had some profit from
Jeremy Genar
and
Jeroen Hoekx
, but he ran most of the race alone. Despite his great result, he concluded that he still has to improve some skills to become even better (
source
). Sergey Fedatsenka wasn't happy nor unhappy about his race. You can read his feelings about his race in his
trainingslog
.
The world ranking is already updated and
here
you can see todays points. The points are important for the national team ahtletes. They need to score 3500 points in total to be able to participate at EOC 2014 in Portugal.
Amelie Chataing enjoying the nice Belgian weather ;-)
In womens class the level was really high today. Best Belgian orienteer
Miek Fabré
only finished 3rd at todays WRE. The French national team runner,
Amelie Chataing
, overtook Fabre at the 12th control and was victorious in the end.
Claire Ward
was in a close fight for the victory most of the race, but had some problems in the 2nd half of the race.
Anastasia Denisova
had the highest running speed today, but 3 big mistakes made her finish in 4th spot. Also
Tritschler
(5th),
Hermans
(6th),
Ilieva
(7th) and
Pitirimova
(8th) performed at high level today.
Nederlandstalig verslag wre Vierveld
Results
Splits
GPS replay men
GPS replay women